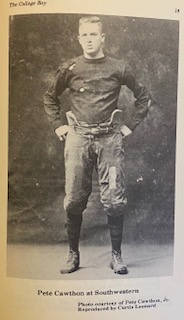 Brought to you in part tonight by McAlpin Chiropractic in Lubbock. Trusted by Tech and more. Give them a holler if you need some relief!
Welcome back to another edition of the Texas Tech Tuesday History Lesson! This week, we're going back to the former Texas Tech football coach Pete Cawthon and his rules for Red Raiders. If you're struggling with your New Year's Resolutions, maybe this will help!
So, here ya go. These rules, that some players called Pete's 10 Commandments were posted around the locker room and dorm in the early 1930s for Texas Tech Football Players to follow and live by. Think you could do it?
Eat REGULAR and that which will agree with you.
Use no tobacco in any form.
Eat sugar as prescribed by the coaches individually.
Go to bed by eleven o'clock each and every night except the night before the game and then be in bed by ten o'clock.
Watch your digestion very closely.
Get out early when possible.
Do not eat between meals.
Pass all your courses.
No liquor or dances.
Drink water freely between meals – very little at meals – don't drink water for twenty minutes after your workout and little at that.
After that, there was a statement that read, "These rules and regulations are for you and you should be proud to live up to them. Live by them and be a real man and football player – disobey them and be a big jelly and a wisher".
By the way, thinking of getting married and playing football for Texas Tech? Forget it. Cawthon made it clear you could only be loyal to the team or your wife….
So, there ya go. As you work on your 2021 Resolutions, just think about playing for "The Coacher" as Pete was known. Now, get to bed at a decent time!