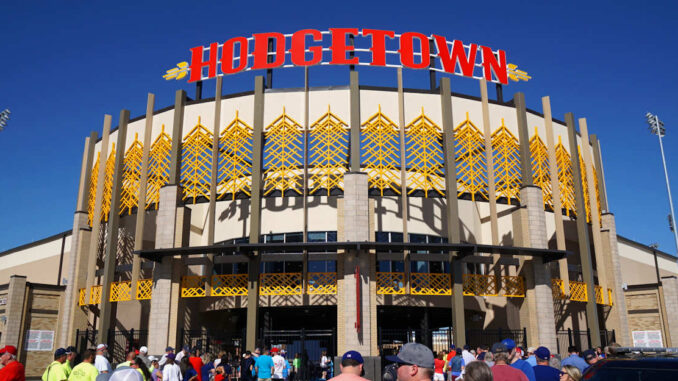 Brought to you in part by Domino's Pizza. Get the app. Get great pizza!
OK. I'm pissed.
Facebook Live stinks and Twitter LIve isn't any better. We have struggled the last week to get our Daily Broadcast out but we won't be deterred. We'll go Old School and write out our thoughts here and then y'all can weigh in on the comments and then share it with friends on Facebook and Twitter. We will win! We will beat technology!!!
So, first off, we were gonna talk about how Texas Tech needs to do more of what they're doing in Amarillo Tuesday by playing Oklahoma in a non-conference mid-week game. That's right, it's a non-conference game against a conference foe. That's legal. We looked it up.
Tech needs to own Amarillo and this is one way to do it. I know some folks in Lubbock hold Amarillo in disdain or scorn. I get it. But the bottom line is that Texas Tech should own West Texas. From Amarillo to Midland-Odessa to Abilene and beyond. Texas Tech must be the most aggressive and visible school in West Texas. This game is one way to do it. Tech officials will be up there hosting a meet and greet and hopefully folks will show up. Hopefully the weather won't suck either.That would be handy. Bottom line is that Texas Tech needs to ignore the age-old rivalry between Amarillo and Lubbock and just claim Amarillo. Treat them better than they've ever been treated. Amarillo folks go to OU, OSU, A&M and Texas because for far too long Texas Tech has overlooked the market. That's a fact.
Meanwhile, we've got Mark Adams. Yes, the new Texas Tech Basketball Coach.
I was told he can't recruit. So that's why I know he didn't just sign one of the most highly sought-after players in the transfer portal in Chandler Jacobs from DBU. Probably didn't happen. Why would the Lone Star Conference Defensive Player Of They Year, who happens to average over 20 PPG come to Tech instead of other national programs? So ya, I'm sure it didn't happen because Mark Adams can't recruit. He couldn't recruit the top recruiter from Arkansas to Tech either I'm sure. That's crazy talk.
Finally, let's talk about Football Guy.
Football Guy struggles with college baseball. Football Guy can't handle Texas Tech losing 5-4 to WVU on Saturday surrounded by. wins of 7-0 and 10-1. Football Guy can't understand how Texas Tech could have Two Players of the Week in Monteverde and Montgomery when they LOST a game over the weekend. Football Guy can't understand how Texas Tech could lose to WVU and move up three spots to number FIVE in the D1Baseball.com poll. Football Guy can't figure out how Texas Tech can still be a lock for a National Top 8 Seed in the NCAA Tournament after, gasp, losing a series in Big 12 play at K-State, yet taking a series from a Top Ten RPI team in TCU.
Here's what Football Guy needs to do.
Go watch football. Stay away from baseball. Show up on the last day of May and buy the T-shirt that says "Big 12 Champs – Destination Omaha" and then tell folks what a great Texas Tech fan you are and that you believed in Tim Tadlock all the way.
Football Guy can't handle baseball and it's OK. Just quit trying. You're not good at it.
There ya go. The Daily. Broadcast in quick, written form. Ignore all typos and grammar screw-ups and by all means comment and share. And get me a Dominos Pizza. I'm starving!
Hyatt