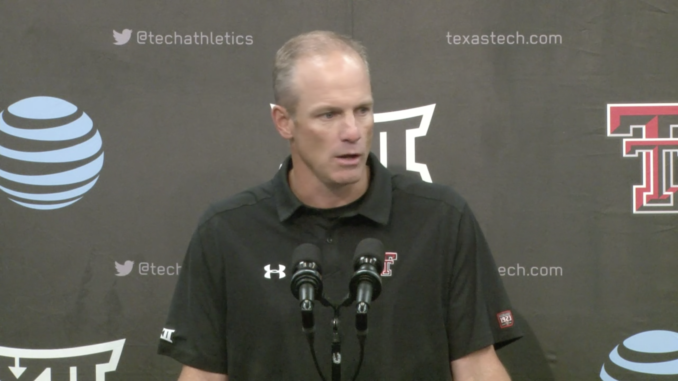 Texas Tech head coach Matt Wells made two things very obvious as he opened his Week 3 Monday Press Conference today – that he appreciated the fans out at Saturday's win over UTEP and that it is no mystery that Arizona will be the Red Raiders' toughest test thus far.
Tech (2-0) plays its first road game of the season at 9:30 p.m. CT on Saturday at Arizona (1-1).
TALENT RECOGNIZE TALENT
"This will be the most-talented team we will face so far," Wells said. That stretches from the bottom of the roster to the top with dual-threat quarterback Khalil Tate, who leads the Wildcats offensive attack. And naturally, the comparison "is not even close" for Wells when thinking about how well the Tech defense has performed against its first two opponents compared to what it will see Saturday night in the desert. Tech had no problem stopping run-heavy Montana State (127 rushing yards) and UTEP (77 rushing yards) but will see an entirely different animal in the Wildcats. Arizona posted 431 rushing yards in a 65-41 shellacking of Northern Arizona. Running backs J.J. Taylor (102 yards) and Gary Brightwell (141 yards) led the way with their "shifty and home run speed," Wells said.
WATCH FOR HOME RUNS
Speaking of home runs, Wells not only recognizes Arizona's solid rushing attack but also the dual-threat play of quarterback Khalil Tate, who was one of the highest rated dual-threat passers out of high school in 2016. He has 109 rushing yards and 499 passing yards for seven overall touchdowns through his first two games this season while completing 64 percent of his passes. "He's a threat to hit a home run every time he has the ball," Wells said. That could be troublesome during the game Saturday. Tech has given up seven plays of 20 yards or more in its first two games, including three plays of 30 yards or more.
NO TRACK MEETS – PLEASE
Two high-powered offenses clashing can usually mean one thing – lots of big plays and lots of scoring. The term track meet can usually come into play at this point, but Wells isn't exactly looking forward to that type of game. "If you let it turn into a track meet, you could get in trouble real, real quick," he said. "I'm not scared to get in a track meet with them, don't get me wrong. We were talking about our defense earlier … our defense doesn't want to get in a track meet with them – nobody does." And it will be a slight shift for the Tech defense from a real-game standpoint. The Red Raiders defense is fully used to going up against the high-powered, fast-paced Yost offense in practice but has not experienced that in a game just yet. "They've definitely been slower so far," defensive back Douglas Coleman said. "We just have to stay disciplined and stay with our game plan."