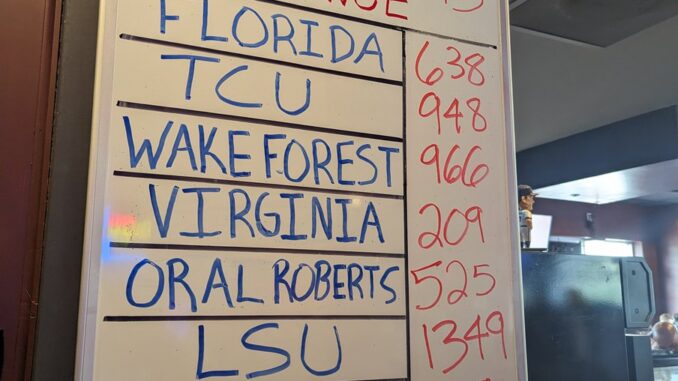 Brought to you in part by Boot City in Lubbock. Whether you're looking for great shirts a new hat or just some cool looking Hey Dudes (IYKYK), Kody and the crew have got you taken care of at Boot City!

Happy Monday y'all!
Hope everyone had a great weekend. There was plenty to keep up with, that's for sure. From TCU figuring out how to hang around the College World Series (they've won one more game than I thought they would) as well as hang in their on the Jello-Shot Leaderboard at Rocco's; a U.S. Open in golf that was…something, plus Bob Huggins finally ending his career in the fashion that it was probably going to end. Badly.
With all of that in mind, we ask today who gets your Raiderland Helmet Stickers this Monday for being awesome? Who in your world, sports or otherwise deserves some recognition for doing something great?
Post your answers here and we'll use the best of them tonight on The Daily Broadcast. We'll join y'all around 6:30ish on Twitter and Facebook Live to recap the day and see what else is happening in Raiderland. Love visiting with y'all. There is no off-season in Raiderland. There's always something going on. See you then.
Hyatt

Fighting Low-T issues? We're here to help. Give Dr. Smyer a call, mention you heard about it here and you'll get the Raiderland Discount on your first visit!