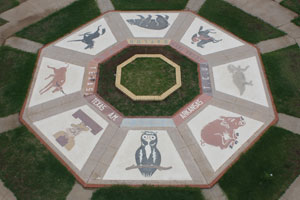 Southwest Conference Power Rankings – Week 2
The Southwest Conference Power Rankings have returned with a vengeance this season. The points system is simple and merit based on opponents, covering the point spread, and actual wins.
The Points System
Win: 10 points
Covers Spread: 5 points
P5 win: 4 points
Road win: 3 points
G5 win: 2 points
FCS win: 1 point
1st TCU (38) +16 from last week
The Horned Frogs rolled to 59-17 thrashing of new Division 1 squad Tarleton State. Sonny Dykes has the Frogs rolling into their bye week as they prepare for arch rival SMU in two weeks.
Next Game: at SMU 9/24
2nd Arkansas (36) +19 from last week.
The Razorbacks rushed for 295 yards in a 44-30 victory over South Carolina. Playing Arkansas must feel like getting hit by truck.
Next week: vs. Missouri State
3rd SMU (31) +11
The Mustangs had a ho-hum 45-16 win over Lamar and look to make a splash this next weekend as the take on a Big Ten foe.
Next week: at Maryland
4th Texas Tech (28) +12
The Red Raiders gave away and then stole a 33-30 2OT win over in-state rival Houston. Tech's defense played lights out while the offense needs work.
Next week: at NC State
5th Texas (22) + 5
The Longhorns gave everything they had in a 20-19 loss to Alabama. The biggest concern is how long QB1 Ewers will be lit.
Next week: vs. UTSA
6th Houston (20) + 5
The Cougars clawed back from 17-3 deficit to take a lead twice in regulation and overtime before falling on the road to Tech.
Next week: vs. Kansas
T7th Baylor (16) 0 points this week
The Bears fell in 2OT at BYU, but the power rankings don't reward losses and losses that don't cover the spread.
Next week: vs. Texas State
T7th Rice (16) + 16 this week
The Owls made short work of McNeese in a 52-10 victory. Rice can build into a somewhat competitive team this season.
Next week: vs. Louisiana
9th Texas A&M (11) 0 points this week
The Aggies looked even worse on offense this week as they could only muster 14 points against an Appalachian State defense that gave up 63 points in the previous week. After five seasons the wheels are off in College Station for Jimbo and crew.
Next week: vs. Miami (FL)
Allen Corbin uses a highly sophisticated formula to put together Raiderland's SWC Rankings each week. No heart, all head. The facts are the facts.