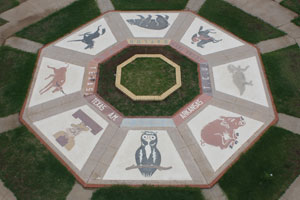 Southwest Conference Power Rankings – Week 6
The Southwest Conference Power Rankings have returned with a vengeance this season. The points system is simple and merit based on opponents, covering the point spread, and actual wins.
Last week was a bye week for the rankings so we're combining the last two weeks of games and to nobody's surprise TCU is running away with the rankings.
The Points System
Win: 10 points
Covers Spread: 5 points
P5 win: 4 points
Road win: 3 points
G5 win: 2 points
FCS win: 1 point
1st TCU 3-0 (95) +36 from last 2 weeks
The Frogs demolished a toothless Oklahoma squad and survived a pesky Kansas team in Lawrence. Sonny Dykes and crew can make a strong statement for the College Football playoff in the next two weeks.
Next Game: vs. Oklahoma State
2nd Texas 4-2 (77) +38
The Longhorns have bounced back from the conference opening loss in Lubbock with convincing wins over West Virginia and Oklahoma. While there's a lot of hype around the Horns they have yet to beat a ranked team.
Next week: vs. Iowa State
T3rd Baylor 3-2 (55) Bye Week
The Bears were physically manhandled by Oklahoma State and have had a bye week to get ready for a road game in Morgantown, where they have never won.
Next week: at West Virginia
T3rd Rice 3-2 (55) +17
The Owls have won back to back home games where they were home underdogs and now sit in good position for a bowl game.
Next week: at FAU
5th Texas A&M 3-3 (54) +5
The Aggies caught Alabama at the right time with the reigning Heisman Trophy winner out of the game and nearly pulled off another upset.
Next week: vs. Bye
6th Houston 3-3 (52) +20
The Cougars shocked Memphis with an epic 4th quarter comeback to win 33-32. Dana and crew can still run to the American Conference title game.
Next week: vs. Bye
T7th Texas Tech 3-3 (47) 0
The Red Raiders dropped their last two games and now there's a bit of a question at quarterback again.
Next week: vs. Bye
T7th Arkansas 3-3 (47) 0
The Razorbacks have lost their last three games and now face a cross-country road trip to take on BYU in Provo. Judging by the comments about the rare non-conference road game the Hogs are dreading this game.
Next week: vs. BYU
9th SMU 2-3 (31) 0
The Mustangs have crashed the Trans-Am and looking at a three-game losing streak after the latest loss last week to UCF. Another tough test awaits with Navy and their triple option.
Next week: vs. Navy
As always, the SWC ranking compiled by Raiderland's own Allen Corbin.