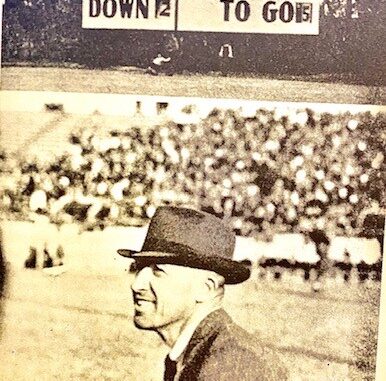 Welcome to our Tuesday Texas Tech History class. Last week we told you how Tech became the Matadors. This week we tell you how one coach and one sportswriter changed history.
Brought to you in part by The Shropshire Agency. Independent and ready. to work for you West Texas!
A week ago we told you how Texas Tech's first head coach, E.Y. Freeland settled on Matadors and the colors Scarlet and Black for Texas Tech's football team. Not a decade later, another Tech coach would make a determination that would change the history of the school going forward. At least when it comes to mascots and how the students viewed themselves….
By 1934-35, Lubbock Avalanche Journal sports writer Collier Parris had already begun referring to Texas Tech's football team as the "Red Raiders" in his stories. He began using that moniker because of the Matadors flashy uniforms as well as their cross-country schedule that saw them "raiding the country" from the South Plains.
Obviously current Texas Tech coach and burgeoning Tech legend Pete Cawthon had taken notice of the nickname.
During the 1936 season, Cawthon took the Texas Tech football team accross the border after a game to see a bullfight.
The great book "Tender Tyrant – The Legend Of Pete Cawthon" recounts what happened next.
"During that season Pete took his boys across the border after a game to see Juarez, Mexco. Of course, he included a bullfight in their scheule, since few of the boys had seen one. but about halfway through the program, Pete staggered out of the Plaza de Toros, white-faced and sick.
"I don't want you boys ever to be called "Matadors" again," he groaned to Harris Check. "We've got to get a new name."
The tenderhearted Pete couldn't accept the bulls' having no chance of coming out of the ring alive. When the banderillos threw the darts into the bull's back, he suffered with that animal.
That day he changed the name to Red Devils, but he never liked the name much, and soon after, he noticed a phrase in a write-u[ by Collier Parris of the Lubbock Avalanche-Journal staff. In it, he labeledd the Texas Tech team "The Red Raiders". To Pete, that was perfect,and the team continues under that name to this day."
So there you go. One of Texas Tech's first sports heroes was somewhere between an animal lover, an early PC crusader or just a man who wanted his team to be known as something more than an executioner.
Most fans have heard the story that it was the A-J writer who created the name Red Raiders, and that's right. It took Pete Cawthon though to embrace it and make the chance at the school level, and now you know why and how it happened.
Each Tuesday we're gonna try and give y'all a Texas Tech history lesson. We freely and thankfully credit great books like Etta Lynh's "Tender Tyrant – THe Legend Of Pete Cawthon" and many more sources we will utilize.
We hope you'll share this with your Texas Tech friends out their via social media and we look forward to visiting with you on the radio each day from 11-1 on Talk 1340 in Lubbock and ESPN 960 in San Angelo. If you want our radio show where you live, call your station and tell them to call us!
Hyatt