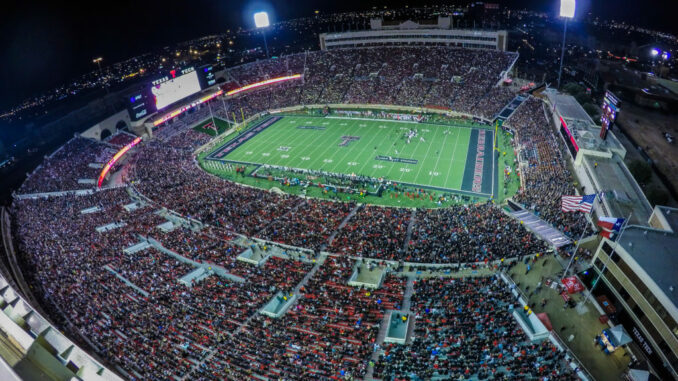 Brought to you by Domino's Pizza. It's Sunday. It's NFL time. It's OK to say no more leftovers! Get that Dominos app cranking and get some pizza today!
3 Quick Take-Aways From Texas Tech's Win Vs OU
Once again, Texas Tech fans got a lesson on how internal culture can change a program. I thought I'd seen it early in the season against Houston and Texas. I thought last weekend in the arctic temperatures of Ames that I"d seen it. Saturday night in Lubbock, it came to full fruition for Joey McGuire and the Red Raiders. After getting waylaid in the opening quarter, looking as bad as they could look, they got off the mat and started clawing back. Little victories here and there. A stop, a nice TD drive, a response when Oklahoma would respond. All night Tech kept answering the bell. So many Texas Tech teams over the past few decades would have gone the other way. The discipline and conviction of knowing they could still win would have been eroded by doubt and "here we go again" mentality. McGuire has robbed them of Can't and instilled Can. This shift actually began late last season under Sonny Cumbie. McGuire amplified it in the off-season and the players saw the dividends early on and it gave them courage Saturday night to keep digging. Culture. It matters.
I truly don't know how good Tyler Shough is, but I'm convinced he's Good Enough. His arm strength isn 't great, but it's Good Enough. He isn't fast, but he's Fast Enough when it matters. He is certainly Tough Enough. That can never be doubted by Texas Tech fans. I think Leach or Tuberville or someone along the way stopped doing the E.J. Holub Double Tough Award. They need to bring it back for Shough. I tried to give his job away over and over. Love being wrong. He's proven he can win games. Texas Tech was lucky to have him this year.
Saturday's win may have been one of the most meaningful wins you'll ever see or a 7-5 team. Talk about historic. You beat Texas and Oklahoma in the same season for the first time. Scratch that off the list as they limp to the SEC. You win three games to end the season for only the third time in 50 years. Yep. 1995, 1973. Texas Tech finishes 4th in a Big 12 that was a land-scramble all season long. As competitive top to bottom as it's ever been. That matters. You gave the fans a great feeling the last time they see you play in Lubbock. That matters. It makes folks feel good about buying tickets, going to a bowl and writing big checks. And don't think or a minute, folks will always fondly remember that the last score displayed on the iconic Double T Scoreboard was a win over OU. That matter.
We'd love to hear from y'all tonight on what you loved about the game, so post something here. We'll be with y'all from 11-1 Monday on Talk 103.9 FM in Lubbock and ESPN 960 in San Angelo, so get the apps for those stations if you live outside the area! Thanks always for listening, reading and sharing what we do in Raiderland!
Hyatt