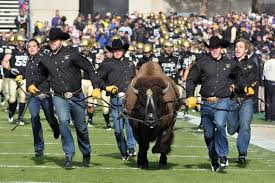 At Long Last the Prodigal Colorado Buffalos Return Home to the Big 12
Pete Thamel from ESPN first reported Wednesday Afternoon what has been long rumored for nearly a year is finally coming together: the Colorado Buffaloes are leaving the feckless PAC-12 and returning home to the Big 12 Conference.
The litany of reports started coming in from the usual College Football writers nationally with their stories and sources which all but confirmed the CU Board is meeting to give notice to the PAC-12 and apply to join the Big 12 as early Thursday, July 27. The news, which has been building for months, confirmed the assumptions of Big 12 fans and media everywhere that the PAC-12 was as good as dead.
Colorado has lost tens of millions of dollars since their 2011 departure from the Big 12 and recruiting has hurt with no regular games against Texas schools. With Coach Prime at the helm in Boulder the mentality quickly changed in regard to joining the Big 12.
The timing of this move is striking with comments from the Big Ten and SEC higher ups who in the last week decided that further expansion wasn't in their upcoming plans. Enter Big 12 Commissioner Brett Yormark and his brand building expertise in pulling off this long coup for Colorado and potentially another school from the PAC-12.
Pausing here for someone to check on the Canzanos, Wilners , and Thompsons of the PAC-12 media world need a wellness check done as their grift is finally going to be done. We can finally put those PAC-12Anon accounts to rest, like this guy.
What is next for the PAC-12?
When all is said and done, the Big 12 will have likely gained four schools from the PAC-12 and schools like Utah will finally feel more at home in what will be a mid-major conference going forward. There will be several overtures from the likes of San Diego State, UNLV, Fresno State, Boise State, SMU, and even Tulane to fill the spots vacated and at that point an automatic bid to the College Football Playoff won't be there for the PAC-12 at the expense of the Big 12. Not bad for a Truck Stop Conference.