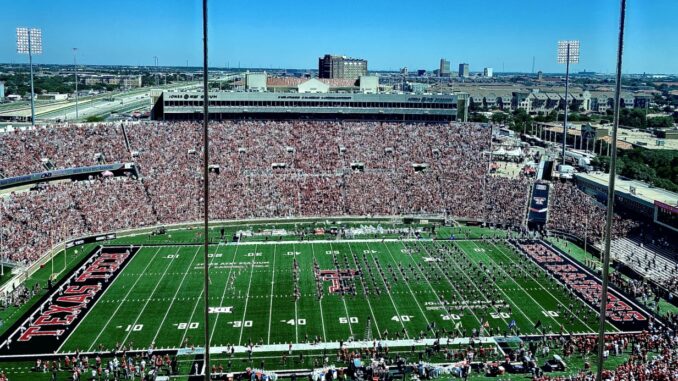 Brought to you in part by Golf USA in Lubbock. This is about the best time of year to play golf in West Texas. Mild temps, low winds and the courses are primed. Get your game better, get over to Golf USA and talk to Red Raider Stacy Nix!

If this is the last time Texas ever plays the Red Raiders in Jones Stadium ( and unlike Don Williams at the A-J, it's fine by me ) then it was a perfect way to send the Longhorns off the riches of dollars and the deficit of wins in the SEC.
Here's just a few quick Take-Aways from the game that maybe we didn't highlight enough on Raiderland Rewind. ( Go watch that after you read this! )
Texas Tech ran about 100 plays of offense. They didn't do it by going tempo, they didn't do by playing like their hair was on fire, running to the line and not knowing what was up… they did it controlled and by clicking off first downs and going on long drives. It's been known to happen. This is what Joey McGuire means when he talks about complimentary football. The offense compliments the defense by working clock and getting points. Not all play-counts are the same. These plays mattered. I've seen a lot of Texas Tech teams rack up plays that signified nothing at the end of the day. The plays Saturday created points and gave the defense a chance to be great. Somewhere, Tom Osborne and Barry Switzer were smiling. They both ground teams to dust running play-counts like what Tech did Saturday.
Say it with me! It ain't Analytics at Texas Tech, it's Joey-Lytics. Hyper-Analytics with a dose of gut-feeling thrown in it seems. I don't always agree, I think the risk-reward doesn't always add up (see going for it early third quarter Saturday and putting defense in a spot where the game might be lost right then… ) but, if you like it when Texas Tech goes 6-8 on 4th down, you're gonna have to like it when they go 2-6 on 4th down and somebody gets cheap points and beats you by a field goal. Can't have it both ways if you're going into the casino playing the blackjack version of football. By the way, I love analytics and their use in sports. I also think it's quickly become a meaningless term used by a lot of folks to just quote stats and trends and justify a decision that way instead of rolling in all the components of a game and in-game decisions. But that's just me. All Hail Joey-Lytics!
This is not a great Texas Tech defense. This is a good Texas Tech defense, and for now, that's good enough. This Texas Tech defense can give up 7.1 YPP, but then hold Texas to 3-9 on third down. That's good enough. This Texas Tech defense can give up a scoring drive at the end of the first half, and then come out and stone-wall Texas in the early third quarter with the game potentially on the line after a Joey-Analytics Gone-Wild Moment to preserve the game at that moment. This defense can give up a FG with :21 left and Texas having no timeouts and no hope, and then force a fumble on the first play of OT to give Texas Tech a shot at the win. In short, this Texas Tech defense is good enough. And for the most part, Good Enough around Texas Tech football the last 22 years would have translated into a lot of wins. Sometimes, you just gotta be Good Enough.
So, there's our thoughts. Now give us yours. Go watch our Raiderland Rewind from Saturday then read and comment on our 5 Things We Know On A Sunday column. We'll see y'all Monday on radio from 11-1 on TALK 103.9 FM in Lubbock and ESPN 960 in San Angelo. Want great radio where you live! Get ahold of us. We deliver. Also, we can make your business a lot of money when you advertise with us. So make it happen and quit waiting for someone else to try and elevate the profile of Texas Tech and West Texas where you live. You can do it!
Hyatt