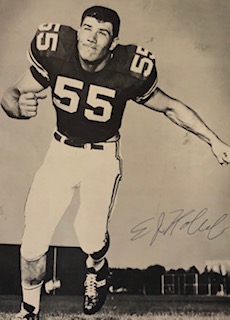 5 Things We Know On A Sunday
Every school has a handful of legends, iconic players and folks who transcended mere football and became bigger than life. E.J. Holub showed up to Texas Tech like that and only added to his legacy. . .
E.J. Holub passed away this weekend at age 81. My favorite Holub quote of all-time? After having so many knee surgeries, at one time I believe he was listed in the Guinness Book of Records, he remarked that he had so many scars that it looked like he'd been in a knife fight with a midget.
E.J. Holub should be in the Pro Football Hall of Fame.
Anyone can play in a Super Bowl. Anyone can play in two Super Bowls. Only E.J. Holub could play in Super Bowl I as a starting Linebacker and then start and win Super Bowl IV as a Center. No man who has walked the planet Earth has started two Super Bowls on offense and defense.
E.J. Holub had the loyalty of a West Texas hunting dog when it came to Texas Tech. Many folks came and went over the decades after he finished his time at Tech after starring at Lubbock High ( where he didn't play football as a senior after suffering a knee injury…). Through it all, through the changes in coaches and times, offense and defensive philosophy – Holub was omnipresent. Not a coach at Texas Tech had a better friend over than years than Holub. In fact, The Double Tough Award needs to come back during the spring while I'm thinking about it. ( Make that happen Coach Wells ) It hasn't been handed out since 2008.
Because 5 points aren't enough today… and it's my column. . . I'll never forget hanging out with E.J. Holub down in Houston late one night after a Texas Tech bowl game. He was gracious. He was funny. He asked me when I was at Tech as a student and recalled countless games. He bought my beer. He was the same hero to me that night, that he was to my Dad, who was just a couple of years his junior at Texas Tech.
E. J. Holub. We don't have many legends these days and Texas Tech, West Texas and America is one short today. Thanks, E.J. Thanks for being you.
Hyatt
P.S. Here's the backside of the E.J. Holub photo that we featured today. It's from an A-J. printing in 1960, compliments of my Dad who saved it in his desk and Cloverlake Dairy Foods! Enjoy!