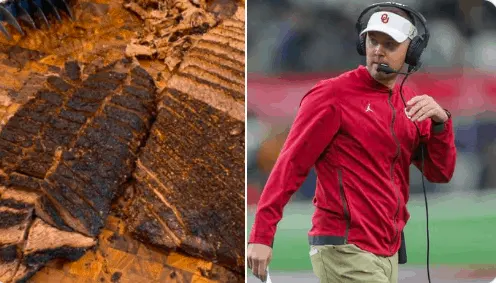 Lincoln Riley Heads West for Greener Pastures
Lincoln Riley, who used to be from West Texas, has accepted the position of Head Football Coach at Southern California according to multiple reports from Football Scoop, The Athletic, and ESPN. Riley compiled a massive record of 55-10 as Head Coach at Oklahoma, winning four Big 12 Championships, and appearing three times in the College Football Playoff.
Riley left Oklahoma high and dry like his Easter brisket. In leaving Oklahoma Riley is exchanging belt buckles for jogger pants, pickup trucks for electric cars, barbecue for…we'll leave that dead horse be for now.
Riley heads to the PAC-12 Conference, which has lacked a flashy name in its head coaching ranks for some time, to resuscitate a USC program which hasn't been a national player since Pete Carroll left for the NFL in 2009. While this is a seismic shift in the College Football landscape there's some thoughts to consider here.
First, Riley left Oklahoma because he didn't want to coach in the Southeastern Conference. Think about it. If USC is going 11-1 each season under Reilly there's a strong chance that they're making the playoff as the PAC-12 Champ and its easier to make the playoff out in the West than in the SEC West Division and this leads to my next thought.
Oklahoma Football is no longer a destination job. Riley left for a job that has fired its last three head coaches midseason and one of them even got the pink slip on a tarmac before the team returned to Los Angeles. The move to the SEC for Oklahoma is good for those television dollars, but Riley saw what was coming and what his last three playoff teams encountered in the playoff. Oklahoma is a blue blood program, but won't enjoy the same success when it leaves the Big 12.
Lastly, Riley was growing stagnant in Norman. Even before getting dominated by Baylor there's been chatter of Reilly being dissatisfied in Norman all season and you can draw your own conclusions with that. Throw in the rumblings that Reilly had trouble with his own recruits at quarterback struggling in the offense and you can begin to draw your own conclusions from that.
While USC feels they got the coach who can turn them back into a national power there's some roadblocks in the way. Kyle Whittingham has been the steady rock for the Utah Utes and won their third South Division title in four seasons in the PAC-12 and has a defense that every season can seemingly stop any offense it faces. I hope the rumors of Whittingham retiring aren't true because seeing him matchup against Riley's offense will be a fun chess match.
The other road block the Trojans face are the Oregon Ducks and they have carried the mantle of the PAC-12 nationally since USC has faded off the national scene twelve years ago. Mario Cristobal has built a great program in Eugene and should provide some big recruiting battles with the Trojans. That's if Cristobal stays with the Ducks and doesn't bolt for an SEC job.
How does this benefit Texas Tech? Well, there's likely several recruiting trips planned by new head coach Joey McGuire to many of those Oklahoma-bound recruits who currently live in Texas so don't be surprised if Tech can flip one or two recruits.  
Allen Corbin