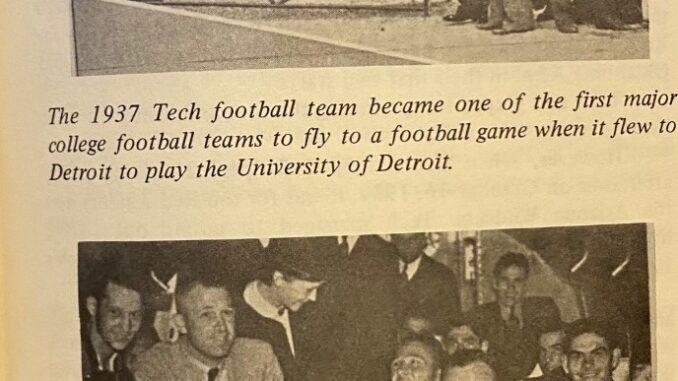 Welcome back to Tuesday Texas Tech History. We took a few weeks off, so we hope y'all didn't mind. Turns out, Tuesday is a busy day in our world. That said, we thank our great sponsors like Gator's Bayou. Want great Louisiana Style Food? Go to 98th and Slide in Lubbock!
This week we'll look back on some great mythology and misunderstood Texas Tech History. Mainly, the idea that Texas Tech was the first college football team to fly to a game.
They probably weren't.
They also were probably amongst the first. So there's that.

What we do know is that Texas Tech did fly to play Detroit in the 1937 season. It was a Big Deal at the time. The went up to play Coach Gus Dorais' Detroit Titans. I'm sure you've heard of them…
According to the book, "The Red Raiders", Tech was a bit of an underdog.
Turns out, they were right.
Texas Tech got beat that day 34-0. It was the worst loss Texas Tech had taken under Coach Pete Cawthon.
Here's how The Avaanche-Journal described it as written by the man who helped create the Red Raiders name … in sports editor Collier Parris.
"Never has a modern Texas Tech team looked so woefully weak in every department of the game. Its passing attack was practically nil, and with the exceptions of Tarbox none of the Matadors backs coud get to first base on the rushing plays. On defense Tech looked even more pitiful, the Titans gaining around ends, through the line and via the airlanes…"
So there ya go.
Texas Tech flew to Detroit and got butt-kicked.
We're they among the first to fly? Maybe. Was it worth the trip? Probably not. Was it trips like this that would cost Pete Cawthon his job in a few years…. Yes. And we'll talk about that in coming days.
Thanks for hanging out tonight and thanks for listening to our radio show each day on Talk 1340 KKAM in Lubbock and ESPN 960 in San Angelo. Don't forget to watch our Daily Broadcast!