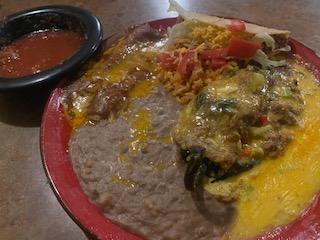 Brought to you in part by McAlpin Chiropractic in Lubbock. West Texan and trusted by Texas Tech for year, Kevin McAlpin is ready to help you feel your best!

Happy Friday y'all, no Daily Broadcast tonight, but we thought we'd drop in and ask y'all a few questions for the weekend! Nothing that will involve math or anything really difficult. Heck, it's Friday. Still, let's see what y'all are thinking going into the weekend in Raiderland…
True or False. The Big 12 will add at a minimum four teams between now and December 31, 2022. Will the league expand or not? Why or why not? Also, do you want the Big 12 to take on some teams from the Pac-10 or not?
Which Mexican Food dish is better? Carne Guisada. Fried Beef Chimichanga. Fajitas. Chicken Enchiladas. Breakfast Tacos or Breakfast Burritos. You can only have one. Which do you choose and where do you get it?
On a scale of 1-10, after hearing new Texas Tech Football Coach Joey McGuire speak at Big 12 Media Days, how optimistic are you going into this season of Red Raider football?
Usually I'm telling y'all what I think. Tonight, it's up to you. Do us a favor and post a comment below and then share this with a few Texas Tech friends on Social Media. We'll see y'all back on radio Monday on Talk 103.9 FM in Lubbock and ESPN 960 in San Angelo from 11-1. We'll also be busy here on the website and our Facebook page over the weekend with compelling, new content. So, get to answering and get to growing Raiderland! -Hyatt