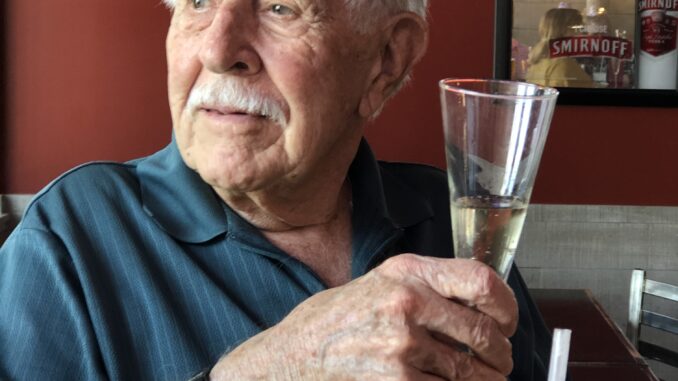 Random Acts of Kindness

We have all types of older people living here at The Ranch. Some are in excellent health, while others have a tough time getting around. But on Friday evenings, they (mostly) all turn out for happy hour, and it's a real education in dedication to a good time to observe them. Some dance, others nurse a drink, some table-hop, and all seem to be enjoying themselves. When the bar area is open, the space around it looks like the inside of a medical supply store: wheelchairs, walkers, canes and an assortment of other mobility- enabling devices. I often watch one older gent in particular, who will come to the bar, order a double something, then grope his way back to a nearby table. When the music starts, he hobbles quickly over to where the "available" ladies are sitting, and picks out a dance partner. They negotiate their way around the floor with never a mishap. But you see, the gentleman is blind. He knows exactly where he's going, and he takes the obstacles in stride. He's got the whole place measured out in his mind, and he's right at home in his special environment. If I see him heading toward the ladies' table, I wait for him to select a partner before making my own move. He'll never know that I'm giving him first pick, because I know that he'd hate any condescension from us sighted ones.

There's another sporty lady who shows up at special holiday dances in a policewoman's outfit, complete with hat, badge, a pistol, and net stockings that enhance her VERY short shorts. She's a spritely 92 and she's been very subtly putting out the vibes that she'd welcome the attention of an eligible senior gentleman. I think she's found one – maybe at the point of her pistola – because she hasn't been prowling around the bar for awhile. The place could become a yenta's delight!
The residents are generally a tight-knit group. They know everything about each other, maybe not always a good thing, but they learn to check on those who, for example, don't show up for breakfast at their customary time. I know two instances in my months here where timely intervention by others has actually saved lives. If a person needs to be hospitalized, there are always others who will look in on them while the patient is confined. These random acts of kindness are always performed with no concern for self- interest and often anonymously, and with no thought of special recognition. One of them happened this morning, and I repeat it here while respecting the anonymity of the saintly souls who reached out to someone in need.

It didn't seem to be a really big deal. An elderly resident, who is very active, with a very keen mind, but who no longer can drive a car or make it to happy hour, happened to remark to a fellow resident (whom he hardly knew) that he'd really like a lounging chair for his balcony area. Now the GIQ (Gentleman in Question) has a daughter in the area, but his repeated requests to her had not been acted upon. Meanwhile, the GIQ was only able to utilize his interior living space. So this morning around the breakfast table, the RO (Resident Organizer) brought up the subject in casual conversation. Before long there were suggestions that a driver could be designated to go shopping for a suitable lounge chair. That idea seemed not to draw a lot of positive response, as they all thought the stores would have put away their patio-type furniture by now and re-stocked with Halloween stuff.

At that point, another resident suggested that he had a pair of lounge chairs that were exactly what the GIQ was needing, and that he would be glad to donate one of them. Done deal! by late that morning, the lounge chair had been cleaned up and delivered to the apartment of the GIQ, who couldn't have been happier with the gift. He thanked the delivery team profusely and asked if there was any way at all that he could repay them.
Never to miss out on a freebie, one of the deliverers suggested that the GIQ's daughter show up at the next happy hour and buy a round of drinks for selected attendees who had saved her the trouble of buying her Dad a new chair. Not a bad idea, but if the daughter couldn't pop for the price of a lounge chair, she probably would turn out to be a teetotaler who wouldn't want to contribute to an elder's downfall. So she's probably off the hook for now, but when her Dad's next birthday party rolls around, it wouldn't be surprising if someone else ate her cupcake!

George Thatcher September 2022
George is an American Bad Ass. He grew up in Jersey, flew B-52s in Vietnam, taught English, Spanish and other languages to children around the world, makes his own salsa, has been known to enjoy a beer or two and has called Lubbock home for a few years, just to entertain the locals. Welcome to Raiderland, Major. We are going to feature some of his writings going forward. Some new, some old. Some rhyme, some don't. When it comes to George, there's no box. So… enjoy our friend and enjoy his writings! – Hyatt